What is Bigfoot RC Truck?
Bigfoot RC Trucks originate form full-size bigfoot trucks, or monster trucks. Real bigfoots are four-wheel-drive oversized beach buggies. As such, they are not really pickup trucks at all, and they got their name solely due to the shape of the fiberglass body. Piped chassis with four-point suspension are built individually for each truck and provide up to four feet of ground clearance. Bigfoots championships brought crowds to their feet with daredevil maneuvers and non-stop excitement. Monster Jam World Finals made participating monsters really popular. Their Hall of Fame gave the path to bigfoot RC monster trucks. Some of them are hobby grade true-to-scale licensed copies, some are just toy grade or simply toys.
Thus many RC trucks manufactures got inspired and built their replica bigfoots. And Traxxas Bigfoot is the most famous one!
Best Choice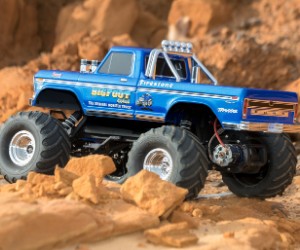 Traxxas Bigfoot No. 1
Bigfoot is the Original Monster Truck. This is the truck that started the monster truck phenomenon and brought car-crushing fun and excitement to fairgrounds and arenas everywhere. Traxxas faithfully captures the spirit and classic look of BIGFOOT No. 1 in amazing detail with this fully licensed replica. It comes out of the box fully assembled, waterproof, and Ready-To-Race. Highly recommended!
Read Verified Customer Reviews
Bu there were others! For example, HPI Wheely King monster truck was available with three awesome officially licensed monster truck body shells, with authentic details and totally scale replicas of the popular Bounty Hunter™, Iron Outlaw™ or Scarlet Bandit™  Axial Racing were inspired by  MAX-D™.  Very similar to modern era full size monster trucks, this chassis was developed for maximum strength and an extremely detailed appearance. ECX® Axe Monster Truck featured a licensed Axe monster truck body, wheels and tires. All of them are discontinued now unfortunately.
If you are Raminator fan, you can enjoy a new 1/5 scale Primal Raminator Monster Truck It's not a toy grade at all. It's a real, gas-powered 4-wheel-drive solid-axle Monster Truck, weighing in at 80 pounds.
But let's see what are the best and most popular now.
Best 8 Bigfoot RC Trucks – Overview & Rating
Detailed Overview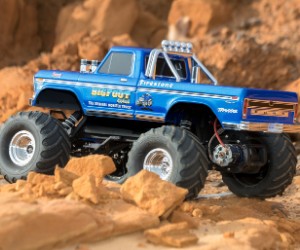 1:10 Traxxas Bigfoot BIGFOOT® No. 1 Original RC Monster Truck
Ready to Run. For 14 +
2WD. Powerful Titan 12T 550 modified motor
TQ 2.4GHz radio system
Check Price
Traxxas has created a replica body of legendary BIGFOOT truck worthy of the BIGFOOT name. It can boast the same illumination and chrome details, making it visible from a miles' distance. From the molded chrome bumpers to the KC lights on top of the chrome roll bar, BIGFOOT attracts attention. The brilliant blue metallic paint of the officially licensed F-100 Ford XLT Ranger body and authentic BIGFOOT No. 1 decals recapture the excitement of the full-sized one. The BIGFOOT from Traxxas is a real thrill even for the beginners.
Features:
Scale Replica Body of the BIGFOOT® No. 1 Truck
4-amp DC Peak Detecting Fast Charger
Waterproof electronics
Efficient Magnum 272™ three-gear transmission with ball bearings
Efficient telescoping U-joint driveshafts
Fiber-composite monocoque chassis
Fully adjustable Ultra Shocks™ with X-ring technology
Bright Chrome Dish dual-profile wheels
If true-to scale full-sized monster truck is not a must, but just a great bashing experience, here is a list of which you can select the best.
Best 7 RC Monster Trucks – Overview & Rating
Author's Choice




1:10 Traxxas X-Maxx RC Monster Truck

Ready to Run. For 14+
4WD.1275 kv Sensorless Brushless,Torque: 365oz. Speed: 0.17 sec/ 60
2.4GHz, Single-Speed transmission, Speed: 50+ MPH


Check Price

People's Choice




1:10 Redcat Racing Volcano Monster Truck

Ready to Run. For 14+
4WD. Brushed 550 19 Turn Motor. Hexfly high-torque servo
2.4GHz Radio System, Single Speed transmission, threaded aluminum body oil filled shocks


Check Price

Premium Choice




1:5 ARRMA KRATON Speed RC Monster Truck

Ready to Run. For 14+
4WD. Metal gears, Torque:38kg-cm @6V, 8S Brushless Motor
Waterproof, 2 channel radio, lightweight ergonomic design, 2.4GHz


Check Price

Best Design




1:12 HPI Racing Wheely King Monster Truck

Ready to Run. For 15+
4WD. 27T motor, 90T spur gear. TVP (Twin Vertical Plate) plastic tube frame design chassis with rear wheelie bar
2.4GHz Radio System


Check Price

Best Budget




1:10 ARRMA Granite Voltage MEGA RC Monster Truck

Ready to Run. For 14+
2WD. MEGA 20T 540 brushed motor. Double wishbone front and rear suspension. Durable, multi-terrain dBoots COPPERHEAD Monster Truck tires
ARRMA ATX101 2.4GHz radio


Check Price

Best Durable




1:10 Team Associated Rival Monster Truck

Ready to Run. For 14+
4WD. Powerful Reedy 3300kV 4-pole brushless motor. Fully sealed transmission, robust shaft drive, and center differential
2.4GHz 2-channel radio system


Check Price

Best for Teens




1:10 Traxxas Stampede Monster Truck

Ready to Run. For 14+
2WD. Titan 12T 550 modified motor. High-torque Waterproof Traxxas #2056 steering servo
Traxxas TQ 2.4GHz radio system


Check Price
Monster Jam completions have made many kids dreaming of a collection of these great monsters. So, if your kid is one of them, you can choose one of the most popular toy grade bigfoot rc trucks.
You may also like: Best RC Desert Buggies Review
Best 3 Monster Jam Toy Grade RC Trucks 
Did You Know?
All that started in the 1970s with Bob Chandler, who turned his Ford F-250 into the first Bigfoot and drove it over a couple of old cars for fun. Then he built a few more Bigfoots. Here's a video about the Bigfoot V, compiled from clips made by Bigfoot Monster Truck inc. in the late 1980s and early 1990s. As we can see, Chandler's innocent hobby had turned into quite an industry by the nineties.
Bigfoots have become insanely popular, and that popularity has only grown over the years. Perhaps its secret lies in the fact that, in spite of the ever-advancing design, monster trucks are designed to roll over, crash into the ground and walls, scatter bits of bodywork, wheels and other parts around them.
The largest and most famous monster truck show in North America is Monster Jam, a tour that includes stops in more than a hundred cities with over 300 performances. It's a competition which had turned into a show. The top teams compete at Monster Jam, each with several drivers and cars: Maximum Destruction, Monster Mutt, El Toro Loco, Captain's Curse, Blue Thunder… In 2012, Monster Jam celebrated the 30th anniversary of one of the oldest teama – Grave Digger!
Monster Trucks Fun Facts
Nowadays Monster trucks are very pricy. We're talking about minimum $250,000 on average, and that's without taking in repair, maintenance, and transportation costs either. Drivers spend over $10,000 for parts repair at each show with just a few days to before the next event.
It takes about 50 hours to make one tire, and the price of each is about $2,600.
Size requirements are: min 43 inches in width and 66 inches in height.
Drivers have custom-built seats located in the center of the cabin for better control. No doors can be found in a monster truck. Drivers get inside from underneath.
The monster truck motor is the one to the roar and shake the whole arena. Its price is about $50,000 each and feature methanol-injection. A typical monster truck fuel consumption is about 7 gallons to the mile, and around 10 gallons per one show.
Monster trucks are giant stunts. They can just and fly the 130 feet height (a distance greater than 14 cars side by side), with a vertical clearance of around 35 feet.
The term "Monster Jam" was used for the first time ever at the Silverdome in Pontiac in October 1992.
Safety goes first! So, there are some radio operators in the crowd who can send a signal to each truck shutting off their engines in case of a rare dangerous situation.